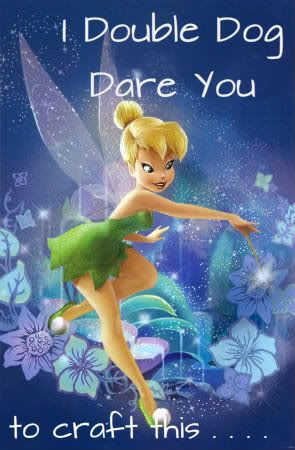 We have a new group to take crafting to a our limit which we are proudly calling I Double Dog Dare You. I am Double Dog Daring you for our first challenge which we are calling Summer Breeze. Ok, granted, I know the heat hats soared to new heights this summer in some areas but let's have some sweet thoughts of our "Happy Place". Now again, just as a reminder, the only limit to our wonderful creative group will be their creativity!
See the curtains hangin' in the window in the evenin' on a Friday night


A little light a-shinin' through the window lets me know everything is alright

Summer breeze makes me feel fine

blowing through the jasmine in my mind

Summer breeze makes me feel fine

blowing through the jasmine in my mind

See the paper layin' on the sidewalk a little music from the house next door

So I walked on up to the doorstep through the screen and across the floor

Sweet days of summer the jasmine's in bloom

July is dressed up and playing her tune

And I come home from a hard day's work and you're waiting there not a care in the world

See the smile a-waitin' in the kitchen food cookin' and the plates for two

Feel the arms that reach out to hold me in the evening when the day is through

Summer Breeze Lyrics by Seals and Croft




We have a super creative group of ladies that are participating this month as this will be a monthly challenge where the players may change but the creativity is phenomenal:




Participant Blog Addies for Summer Breeze






Now, to showcase my creativity, I have for you today a card using one of my new sets that I designed called Summer Breezes. You can find this and many other cute SVGs to create your own fun paper piecings or in this case, I used a PNG, in my store at

http://scrappingwithlisadesigns.com/

.
With all this being said, sadly, I must send you on your way to our next super crafty friend
Stay tuned for next month for I Triple Dog Dare YOU. If you want to particpate, let either Lynne Kirsch at hercraftiness@gmail.com or Kimberly Pate at KPKre8tions@gmail.com where we are going to be challenging your creativity mojo where the only limit is yourself with a theme of "Back to School"