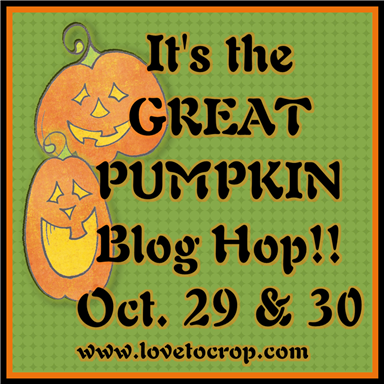 This is a TWO-DAY blog HOP, and it is all about the pumpkins!! From cards and layouts to awesome 3D projects, you'll enjoy a collection of fabulous ideas from some fabulously creative friends!! Be sure to stop on by for each day of the hop as there will be NEW ideas on Saturday AND Sunday!! You won't want to miss a thing!! Prizes will be offered for visitors of DAY ONE and visitors of DAY TWO, but A GRAND PRIZE will be offered to those who choose to hop and comment on BOTH DAYS!! :) Hope to see you there!!
The official hop start times are as follows (you can join in on the hop anytime after the start time -- The GRAND PRIZE opportunity will be open until WEDNESDAY, November 2nd):
Oct 29 & Oct 30th. IT'S the GREAT PUMPKIN Blog hop. This HOP is all about the pumpkins!! NO witches, NO haunted houses ... 100% pumpkins/100% of the time!!
Hello, and WELCOME to the The GREAT PUMPKIN Blog Hop!! We're so excited that you could join us for this WONDERFUL two-day hop!! Please be sure to visit BOTH days for maximum ideas, maximum FUN, and maximum chances to WIN!! Our hostess, Amy at www.lovetocrop.com has some SUPER prizes for a few hoppers, so be sure to check out all of those details on her blog!!
If you have hopped here from Jennifer ~ www.craftycardgallery.blogspot.com,
then you have arrived at the perfect spot in the pumpkin patch!! If you are just popping in to visit, please take a trip back to Amy's Blog (www.lovetocrop.com) to start at the beginning -- with all the pumpkins in the patch, you'll want to be sure to see them all!!
For my project I have created a card. You can find this card and many more cards and layouts for sale on ebay, look under lisaboegeman2009 or TSPD. I also do custom layouts, so send me a message about what custom work you would like done at ljopeters62@yahoo.com.
To be eligible for my blog candy, you MUST visit my blog and leave a comment on my blog for the day and also become a follower at "Scrapping With Lisa" and my facebook page:http://www.facebook.com/pages/Scrapping-with-Lisa/130882060268842 Please let me know if you don't do facebook and I won't count that against you for the blog candy. Now for the blog candy, I bet you are wondering what it could be. It will be a big treat bag full of goodies.
Thank you again for visiting, for the next stop in the Pumpkin Patch, please hop to
April ~ http://www.curlsandgrins.blogspot.com
. Please stop by tomorrow for another pumpkin project.