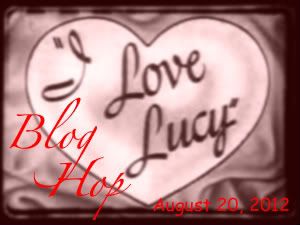 Welcome to the zany antics of our favorite red-head, Lucille Ball. Let's sit back in front our 13-inch black and white set complete with rabbit ears!!! I Love Lucy Show stared Lucille Ball, Desi Arnaz (Ricky Ricardo), Vivian Vance (Ethel Mertz), and William Frawley (Fred Murtz). The black and white series originally ran from October 15, 1951 to May 6, 1957 on CBS which had won five (5) Emmy Awards along with several nominations!!! In 2002, it ranked second on TV Guide's list of television's greatest shows!
When I think of the shows there are several that come to mind - when Lucy and Ethel got jobs for a day and worked in the candy factory or there was Lucy doing the commercial for Vitaminagin (and its tasty too!)
We are paying homage to the antics of our favorite red-head and recalling some of our favorite episodes!!! Sit back, adjust the rabbit ears and . . . If you're just visiting my station today, don't get me wrong as I always love visitors but I wouldn't want you to miss a single episode and would want you to start at the beginning of our seaon with Lynne at
http://slasewcraftiness.blogspot.com/
. You should have arrived from
Anita~
http://www.anitaandbugs.blogspot.com
which means the rabbit ears are adjusted correctly . .
My episode of I Love Lucy is a one page digital layout featuring a quote from Lucy. I am sorry that this isn't one of my best digital layouts but I have not been feeling real well the past few days but I do love the quote and I do love the pics I put on the page. So without further ado, my layout.
You next episode is
Barbara B-
http://barbarab3.blogspot.com
to get Lucy off the ledge when she thought she would be Superman for Little Ricky or that time Lucy and Ethel bought the freezer and got locked in there or you get the idea......